Energy - Utility Substation
Energy - Utility Substation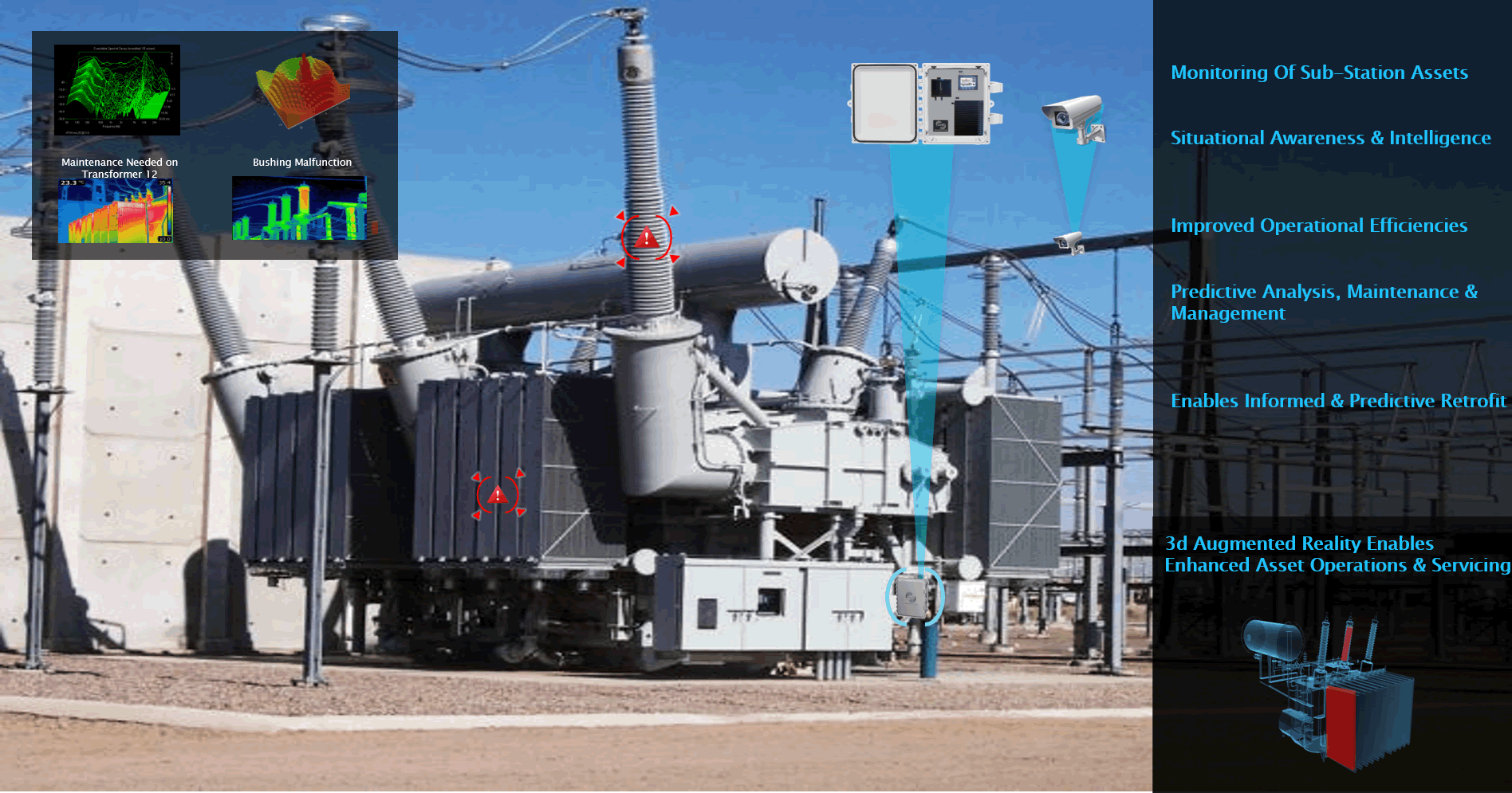 Utility Substation Asset Management Challenges
Utility Substation
Asset Management Challenges
Much of today's Substation Equipment (breakers, transformers, switches) owned by utilities was installed a great number of years ago and may be reaching the end of its service life. Because of the risk of failures, this older equipment requires higher frequency maintenance and scheduled outages, which reduce system availability and reliability, decreasing the value of the delivered services. Although simply replacing the equipment may solve these problems, the associated cost is prohibitive.

Asset management continues to be a challenge as utility companies balance an aging infrastructure with new smart grid technology. Asset management is without a doubt one of the most difficult occupations in the utility industry. In order to remain competitive, maintenance work must be performed at minimum cost and with little interruption to service, all without neglecting safety and environmental concerns. This dilemma creates serious problems for those charged with the responsibility of maintaining utility assets.

The current state of the industry has challenged the traditional system of scheduled, or time-based, maintenance. This is the most expensive form of maintenance and it may not identify potential failures. Scheduled maintenance may identify the condition of the equipment at the time of assessment, but the estimation of remaining life is not necessarily addressed by current tests or practices. It is clear that the maintenance process must evolve with the industry.
Utility Substation Asset Management Solution
Utility Substation
Asset Management Challenges
With the Zotera Insight™ Platform sensors, cameras and other embedded technologies can feed valuable performance data in real time. The Zotera Insight™ Platform uses advanced analytics capabilities made possible with machine learning identifying patterns found in immense amounts of collected utility data allowing utilities to conduct preventive and predictive maintenance before a problem occurs.
Utility Substation Security Management Challenge
Utility Substation
Security Management Solutions
Utility substations present many unique challenges, ranging from theft, vandalism and safety concerns to complying with increasingly enforced regulations related to Critical Infrastructure Protection programs.

While the threat of terrorist activity to disrupt the nation's power grid remains ever-present, other hazards such as theft and vandalism are more common and represent an immediate challenge. With the price of copper at an all-time high, and with a large amount of copper wiring present at electrical substations, it's no surprise that they have become an attractive target for thieves. When protecting these critical assets, a real-time awareness when an intrusion is taking place is critical to ensuring a timely response and preventing an incident from escalating.
Utility Substation Security Management Solution
Utility Substation
Security Management Solutions
Historically, the common approach for detecting intrusions over large perimeters has been to use a blind sensor, such as coax or fiber on the fence, acting as an activity detector, augmented by a camera to help security guards determine the cause of the alert. The drawback to such an approach is that these sensors can generate many nuisance alerts, diminishing reliability, while the costs for deploying and maintaining two separate systems--a sensor and a video system--can quickly escalate.

Zotera's use of thermal cameras with video analytics provide substantial advantages, increasing the probability of intruder detection while greatly reducing the nuisance alarms that have plagued automated perimeter systems in the past. Thermal cameras can also create virtual barriers along open areas that surround a building or an asset to prevent insider theft where physical or man-made boundaries are unlikely to exist.

Thermal cameras can amplify small differences between the temperature of a person and the background, accurately detecting intruders even in less than ideal conditions. They will ignore headlights, reflections off water or other lighting issues that cause false detections with visible light cameras. Because they can detect in complete dark, bright sunlight or poor weather, smart thermal cameras can be counted on to secure outdoor areas 24/7. The alerts smart thermal cameras generate are accurate and will drive focused attention when an intrusion occurs.

The Zotera Insight™ Platform incorporates audible communications so an intruder who has triggered an alarm can be requested to identify who they are. All those authorized to have access can be given a unique access code to enter on their phones, which can also be supplemented by an audio password. The access accountability of codes and/or passwords generates a complete log of who enters and exits the area--satisfying the physical security aspects of regulator Critical Infrastructure Protection requirements.