Smart Video Surveillance & Analytics System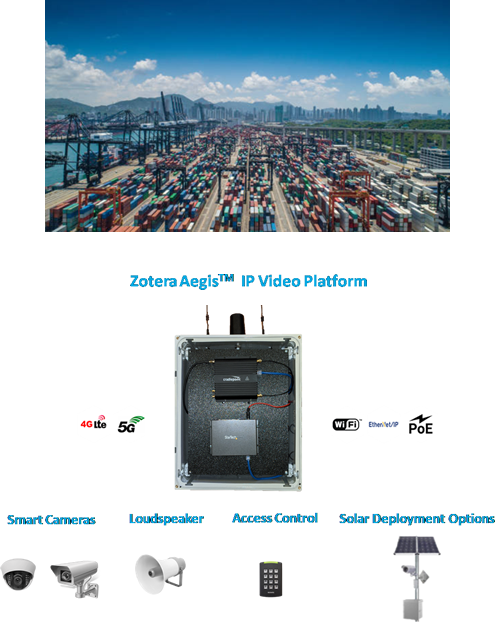 Video surveillance and remote monitoring are important tools for today's communities, whether a 'Smart City', public works department, seaport, or airport trying to make operations more efficient. However, traditional video security systems are expensive and complex to deploy and manage. Utilizing the best wireless radio, digital camera, and solar technologies, Zotera has developed a cost-effective solution for remote Ruggedized IP video security and surveillance.

The Zotera Smart Video Surveillance & Analytics System leverages the high-definition video streaming and on-board video analytics for surveillance and security, object detection, analysis & identification, pattern recognition, facial recognition, geo-fencing, and IIoT machine vision.
Support for PoE Network Cameras
Rapid Deployment
Multiple Configurations
Intelligent video analytics 
On-board Storage
High-definition Video Streaming and Edge Analytics for a Wide Range of Industrial Applications
Air & Sea Ports
Border Crossings
Pipeline & Drilling Facilities
Power Plant Facilities
Construction Sites
Water Treatments Plants
Electric Utilities
Transportation

National Monuments & Icons
Dams
Public Safety
Traffic Monitoring
Flood Monitoring
Event Security
Illegal Dumping
Industrial Storage Facilities